---
Biography
In the Beginning….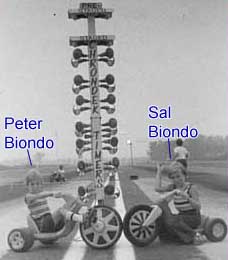 Peter Biondo was born in 1971 in Queens, New York. While growing up, playing hockey in local leagues around the neighborhood was how Peter spent a lot of his afternoons. On the weekends, Peter would go with his family to the drag races. It didn't take him long to figure out that drag racing was his passion. Like any sport, drag racing gets in family bloodlines and passes down from one generation to the next. The Biondo family is a prime example of this. In the late 1960's Peter's father, Sam, competed regularly at the dragstrips. Since then Sam has won 8 track championships in the super pro ranks. Peter's older brother, Sal was the next to take the wheel. In 1984 Sal began competing and shortly thereafter Peter started his racing career. "My 16th birthday couldn't come soon enough, I've been watching my father since I was 2 years old and I was eager to take a shot at it!"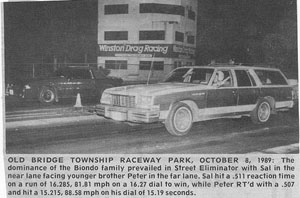 It was 1987 when Peter started racing in nothing other than with the family station wagon in the entry level class. Peter and his family spent many weekends traveling together to racetracks in New Jersey and Pennsylvania. According to Peter it was time well spent. "Sal and I would alternate driving the station wagon and we would watch my father compete in super pro. It kept us together on the weekends and was a lot of fun. I just knew it was something I wanted to be involved with for a long time." Peter finished his education at St. Johns University with a bachelors degree in business management and a 3.2 GPA. Within those 4 years Peter was competing at the local bracket tracks and enjoyed a great deal of success, winning 3 consecutive super pro track championships at local tracks in New Jersey. It was then that he realized that he didn't just want to drag race as a hobby, he wanted to make it a way of life. Major Accomplishements.....
---
| | |
| --- | --- |
| Peter's first World Championship came at the wheel of Phil Monteiths 1982 Hatari Firebird. | In 2000, Peter took his 1998 S&W dragster to win the biggest bracket races in the northeast to date. Peter captured $50,000 in a race win at Cecil County MD in April and 3 months later he won another $50,000 in a race at Atco NJ in June. |
| | |
| --- | --- |
| Peter won his second NHRA Super Stock World Championship in 2000. | In the fall of 2000. Peter Biondo was referred to as "the Terminator" on ESPN TV by an ESPN commentator after clinching the Jegs All Star race in Illinois in both Stock and Super Stock. The fall put an end to what might be Peter's most successful season to date. "2000 was a year I will never forget. It makes you realize that hard work and determination really pay off" Peter stated. |
| | |
| --- | --- |
| In 2003, Peter won his third NHRA Super Stock World Championship. | Driving his 69' camaro, Peter won the NHRA Stock Eliminator World Championship in 2005 by setting a record for the highest points total in NHRA history with 792 points. |
---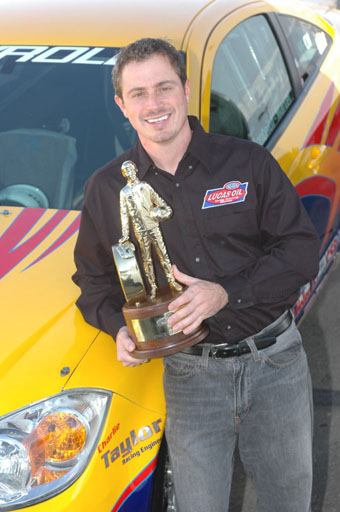 In 2006 Peter Biondo won his 5th NHRA World Championship driving the Hatari 2000' Firebird.
Later in the year, the team decided to switch cars to Arnie Martel's 06' Cobal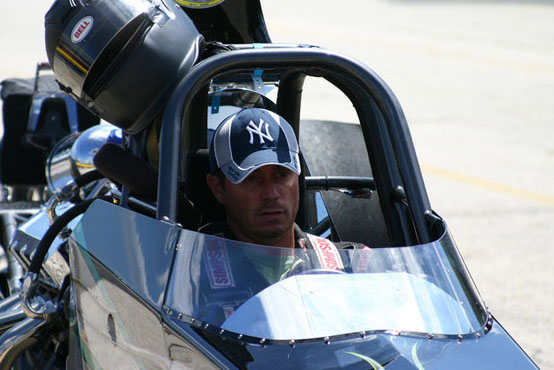 2008 was good to Peter as he won 3 NHRA National Events along with a handful of big bracket race
wins including a $25,000 win and the Ultimate Gamblers $42,000 winner take all race win in Las Vegas.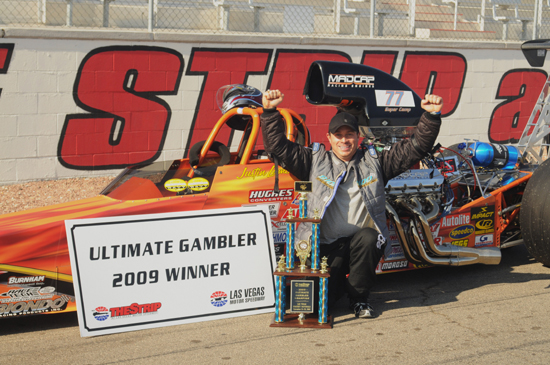 In 2009 Peter brought the Ultimate Gamblers Bracket Race Title home to New York for the second
year in a row. Peter also captured the points championship at the prestigious 5 day bracket race in
Bradenton Florida along with scoring 2 NHRA national event titles, one in comp and the other in super stock.
HOME
| PORTFOLIO | SPONSORSHIP / OPPORTUNITIES | BIO | RACE TEAM | ARTICLES | OFF TRACK | PHOTO GALLERY
---
All photos, text and graphics on this site unless otherwise stated are Copyright © peterbondo.com. All Rights Reserved.