---
Race Team In 2009 Peter was able to attain 2 of his goals he set forth in his racing career. Up until mid 2009, Peter's 36 NHRA National Event Wins came in the categories of Super Comp, Stock and Super Stock. In August 2009, Peter won his first NHRA National Event in Comp at the Lucas Oil Nationals in Brainard MN. "Arnie Martel and Larry Allen gave me the opportunity to drive a very competitive comp car at a few races in 2008 and 2009 so I was happy to make the most out of the opportunity. It was a goal of mine and probably one of the most thrilling racing experiences I've had". Said Peter, who also won the 2009 SuperNationals in Super Stock at his home track of Raceway Park, Englishtown NJ. Peter also did his normal schedule of bracket races in 2009 where he experienced some success in his 2007 Racetech dragster with some exciting wins late in the year. In the month of November Peter won the overall points championship at the 5 Day Bracket Race in Bradenton Florida topping a race week filled with the best bracket racers in the country. By winning the day 3 $10,000-to-win main event Peter took the points lead and held onto it with some solid late round finishes on day 4 and day 5. Peter talked about the week, "Winning the points championship at the Bradenton 5 day was a goal of mine for the last 5 years and it was very rewarding to actually do it". Peter also won the points championship in at the Moroso 5 day in 2001. In late November, Peter made the trip to Las Vegas for their annual Ultimate Gamblers Race weekend and for the second year in a row took the prestigious trophy back to New York. Driving the Lamb family dragster Peter won the $22,000 winner take all prize by beating Stephan Kondolay in the money round. Looking ahead to 2009, Peter looks forward to the challenge of following the same schedule consisting 10 to 12 NHRA National Events and handful of big dollar bracket races. "This type of schedule is nice because it gives me some time off from racing. It's exciting and also very challenging. Racing at this level means that every time I stage up, the competition is top notch." Tom Kurucz, Peter's crew chief, continuously works on the familiar A/SA 69' camaro trying get the most out of it's performance while keeping consistency in mind. The 396 engine was also freshened by Brian Tilburg. Peter looks forward to competing at the NHRA National Events with the stocker as well as some super stock and comp with a in both Arnie artel's cars and the familiar "Hatari" Pontiac of longtime friend and partner Phillip Monteith. On the bracket racing side of things Peter will once again be using his black 2007 Race Tech Dragster which continues to be powered by a 582 BBC PAR racing engine. Peter enjoys racing the dragster "Scott from PAR built a motor that has plenty of power and at the same time is reliable and deadly consistent." The variety in the racing gives Peter a chance to stay informed on what's going on with the bracket racing market as well as the NHRA racing market and stay in tune with Biondo racing's customers.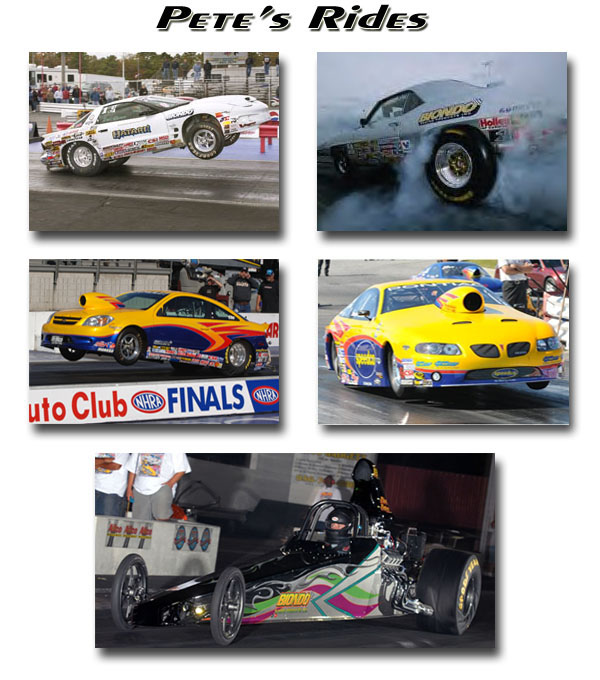 HOME
| PORTFOLIO | SPONSORSHIP / OPPORTUNITIES | BIO | RACE TEAM | ARTICLES | OFF TRACK | PHOTO GALLERY
---
All photos, text and graphics on this site unless otherwise stated are Copyright © peterbondo.com. All Rights Reserved.